!Fiesta!
It's May 5 and I hope I'll see you for this evening's meeting! I know it's late notice, but time honestly snuck up on me! It was Easter a minute ago, and here we are at Cinco de Mayo! Kids are getting ready for summer vacation, and I feel like I'm barely out of my winter wardrobe. Ah well, time flies when you're having fun!
April was a nutty month at the Lewis house, partly because we didn't even get to live there for 9 days in April, and not for a fun reason, either – our hot water heater tank gave up the ghost and flooded the bottom floor of our home. My husband came home to water sheeting out from under the front door, and entered the house to find a soaking wet dog standing in the rushing water, wondering how she got herself into that!  Thankfully it was not hot water rushing out and dog, while sodden, was otherwise fine.  The flooring is wrecked and our closet has been gutted to the slab and the sheet rock, but the good news is that neither the pets nor the yarn studio were harmed (priorities, you know?!), and we're all stowed away at my parents' house for the duration, while our landlords figure out the world of homeowners insurance and getting things put back to livable.
Meanwhile, we have some fun to attend, so let's do it!
The March and April meeting minutes are available in the members' only section.
Our May meeting is Tuesday, May 5, and you know what that means!
…
Okay, it means that we'll be celebrating our stepping-down board members and welcoming the membership who are stepping up into these critical roles.
We're also going to welcome speaker Michael Cook and talking about silk and sericulture (the fancy word for growing silkworms)! Come and hear Michael wax rhapsodic (on his wedding anniversary, no less!) About the incredible bombyx moths he raises and the output of their lives- beautiful silk, that stuff of legend from time immemorial. I look forward to seeing you all at the meeting and having a wonderful wrap-up of our 2014-2015 Guild-Year.
A Mystery!
A knitter contacted me recently inquiring whether any of our membership were familiar with this stitch pattern: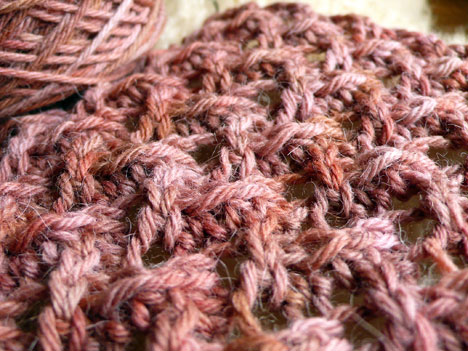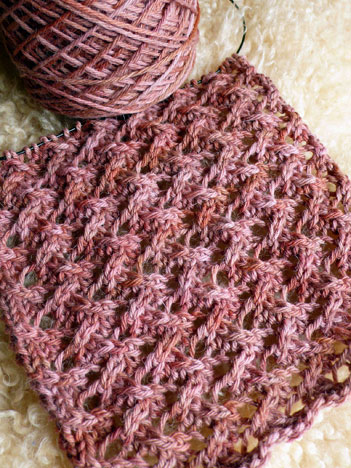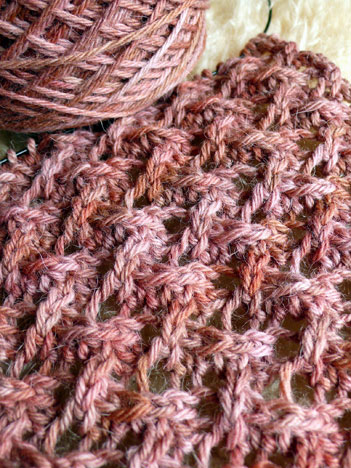 If you have any suggestions what it might be, please email me. If it's from a copyrighted source, please let me know that too, and I'll pass on the info to the original asking party. It's a lovely pattern, so any ideas of what its name might be or where to find the stitch pattern would be greatly appreciated!
See you on Cinco de Mayo!
Regina